Staff Member
Erik Holland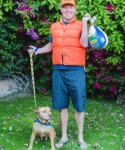 Email
President
Sports fan, Cal football fanatic, 4.5 Star Backyard Chef and Insurance Agent!
Erik is completing his 11th year in the insurance industry and continues to build relationships with a wide rage of clients while also taking on a larger role in the management of the agency.
Erik enjoys helping clients of all sizes throughout the Bay Area and has served as Chair of the Board for the Berkeley Chamber of Commerce and continues to sit on that board. In addition, Erik coached in the Fremont National Youth Baseball league for 7 years, served 3 years on that Board and recently was appointed to the board of Heart-to-Heart which is an organization that focuses on providing training for life saving children's heart surgery. In his down time, he is a big sports fan (especially Cal football) and loves his backyard where he gets to play "bags", hang out with friends, grill, and watch his dog Lucy romp around.