Staff Member
Marian Glenn-Ellis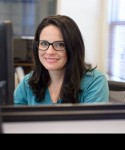 Email
Agent/Personal Lines Specialist
Mother of Twins, Oakland A's die-hard, Theater Lover, and Insurance Agent!
Marian, a lifelong resident of the East Bay, and a graduate of nearby El Cerrito High School, has worked with Fidelity Insurance Service for 22 years.
She is the parent of twins (a boy and girl) and is always taking them on new adventures around the Bay Area. With the twins attending a local middle school and involved with art and local youth sports, her week nights and weekends are spent part-mom and part-shuttle service. In her "Marian" time away from the office, she enjoys visiting family, trekking to the family cabin in Twain Harte, planning her next trip to Disneyland and dreaming about her next trip to Hawaii. Marian is also a key contributor to her Relay For Life team that does the 24-hour walk every summer in El Cerrito, by recruiting participants, volunteers, and donations. Being an active part of the community is what she learned from her roots here and hopes to instill these values in her children.