Staff Member
Steven E. Holland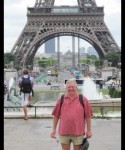 Retired
Opera lover, Classic Movie "buff", lifelong resident of East Bay, and Insurance Agent!
Steve was with Fidelity Insurance Service for over 30 years and loved helping people solve problems.
Throughout his career he was very visible in the East Bay by giving back and supporting numerous organizations. While his two sons were growing up, he served on the El Cerrito Youth Baseball board and as Scoutmaster for Troop 100 in Kensington for the Boy Scouts of America. He continued to serve, and was President of the Rotary Club of Berkeley, and on the council of his church in Berkeley. Steve also spent time as Board Chair of Heart to Heart International Medical Children's Alliance and the Alta Bates Summit Foundation Board. Now that his direct board involvement has slowed down, Steve continues to support many of these organizations as best as he is able and enjoys seeing all of them continue to grow.